This is the annunciator in its full glory. It is divided in six sections.
ELECTRIC, ICE PROTECTION, ENGINE, WARNING/MISC, HYD & ANTI SKID and DOORS.

The lights are:
RED - WARNING LIGHTS. Will trigger the MASTER WARNING. Indicating severe trouble like APU FIRE or CABIN PRESS.

YELLOW - CAUTION LIGHTS. Will trigger the MASTER CAUTION. All malfunctions or other situations that will require some actions from the crew. Like FWD CABIN DOOR or R GEN OFF.

BLUE - ADVISORY LIGHTS. The only lights that are supposed to be ON to indicate that some system is working in the normal way. Like ENGINE ANTI ICE or RUDDER TRAVEL UNRESTRICTED.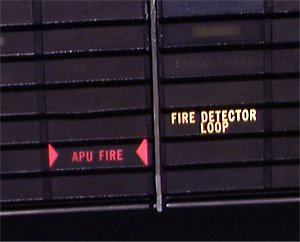 A closer look at two of the lights. In this case it is the indications of an APU FIRE.