AUDIO PANEL.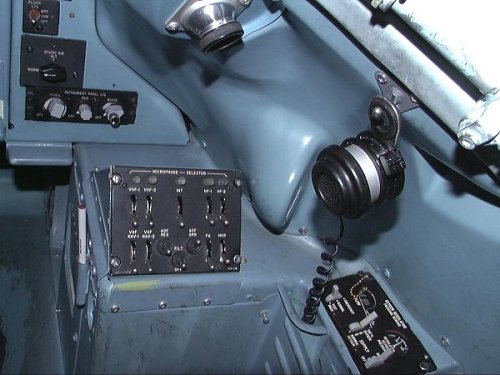 The flight interphone and audio system provides listening facilities for any combination os audio signals from the receivers and side tones from the transmitters without interaction between the audio panels. It also provides inter-communication between two or more crew members. In addition, a jack outlet in the external power receptacle permits flight interphone communication with ground personnel.

The system employs three audio panels, each including an integral amplifier. The audio panels are used to control all functions of the flight interphone and audio system.
A jackbox with outlets for headset, boomset, hand microphone and oxygen mask microphone is connected to each audio panel on flight deck. The pilots boom oxygen mask microphones are controlled by the corresponding control wheel microphone switch.

Each crew member, including the observer, is provided with a hand microphone, controlled by an integral press-to-talk button. On the R/P station, an additional hand microphone is installed on the right side of the pedestal. There is one loudspeaker above each pilot station. They are used to monitor the interphone and audio system without having to use the headset.
1. MICROPHONE SELECTOR BUTTONS.

When depressed and lighted, the microphones associated with the connected audio panel are connected to the selected communication system.
INT communication pilot/mechanic.
HF-1/2 not in use.

2. AUDIO CONTROLS.

Adjusts the output of any combination of receivers, interphone and passenger address systems.

3. Volume controls to different navaids.

ADF RED/GREEN only ON/OFF.
FILT, used to reject the call sign (1020 cps)from a broadcast with simultaneous call sign transmission (FILT position).
PA Passenger address.
MKR Marker beacon.