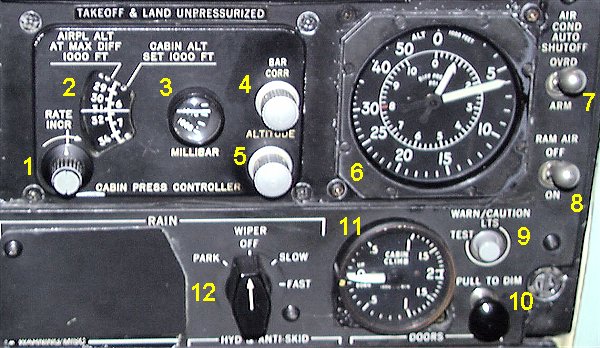 The pressurization system is designed to maintain the pressure in the pressurized area as near sea level as possible, throughout the altitude range of the aircraft. Normal maximum cabin differential pressure is 7.46 psi, which gives sea level cabin pressure up to a flight altitude of 18 000 ft. At a flight altitude of 35 000 ft, the cabin altitude will be 8 000 ft. Pressurization is accomplished by bleeding air from the pneumatic system through the air condition system into the pressurized area. desired cabin pressure is maintained by regulating the amount of air being exhausted by means of the cabin air outflow valves. Normally, the outflow valves are automatically positioned by the cabin pressure control system, but may also be manually operated by means of a control wheel on the throttle pedestal.
1. RATE KNOB.

Used to set the cabin rate of climb and descent as indicated on (!!). When set to index mark the controller will maintain a rate of change of approx. 250 ft/min.

2. AIRPLANE/CABIN ALTITUDE DISPLAY.

Displays maximum flight altitude in relation to cabin altitude with maximum cabin differential pressure.
- Before takeoff set to intended FL on the AIRPL ALT scale.
- Before landing (DESCEND CHECKLIST) set to airport elevation - 200ft on the CABIN ALT scale.

3. BAROMETRIC READOUT.

Displays the barometric setting in millibars as set by the barometric correction knob.
- Before takeoff set to 1013 MB.
- Before descend set to local QNH at the landing airport.
- When flying at or below FL180, set to landing airport QNH before takeoff.

4. BAROMETRIC CORRECTION KNOB.

Used to set the applicable barometric pressure.

5. ALTITUDE KNOB.

- Used to set the AIRPL ALT scale at desired FL prior to takeoff.
- Used to set the CABIN ALT scale at airport elevation prior to landing, to assure that cabin pressure and airport pressure is equal at landing.

6. CABIN ALTITUDE AND DIFFERENTIAL PRESSURE INDICATOR.

Reading the long pointer against the outer CABIN ALT scale indicates existing cabin altitude in feet.
reading the short pointer against the inner DIFF PRESS scale indicates difference in pressure (psi) between cabin altitude and aircraft altitude.

7. AIR CONDITION AUTO SHUT-OFF SWITCH.

- ARM. Shuts off both air conditioning systems in the event of an engine shutdown. This condition is sensed by the differential pressure switches and when the differential in pressure becomes too high, auto shutoff is initiated.
- OVRD. De-activates auto shut-off circuit.

8. RAM AIR SWITCH.

- OFF. Ram air valve is closed.
- ON. Valve open, ram air or fan air is used for ventilation (air condition systems off).

9. WARNING/CAUTION LIGHTS TEST SWITCH.

When depressed all warning and caution lights will be ON (including the annunciator).

10. DIMMING SWITCH.

When pulled, all annunciator panel lights, except doors, will be dimmed.

11. CABIN RATE OFF CHANGE INDICATOR.

Indicates cabin rate of climb or descent in fpm.

12. WIPOR SELECTOR SWITCH.

-OFF. Both wipers are off.
- SLOW. Both wipers operate at reduced speed.
- FAST. Both wipers operate at full speed.
- PARK. Both wipers move to parked position. Switch must be held in this position momentarily, as it is springloaded to the OFF position.