Left Pilot side.
Back to MD80 cockpit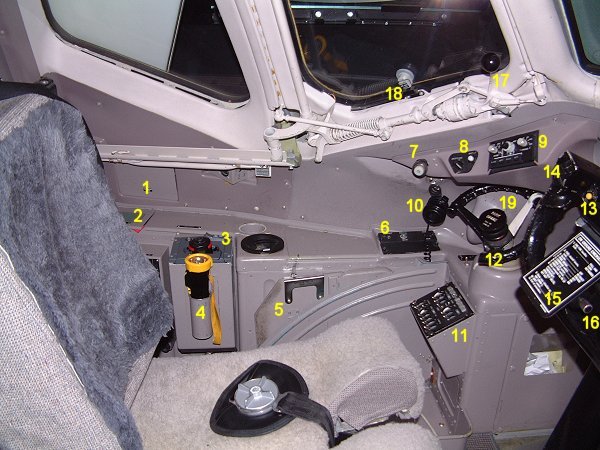 1. SPARE BULB compartment.

2. STORAGE BOX.

Headset and microphone.

3. EMERGENCY OXYGEN MASK.

Full face crew oxygen mask.

4. EMERGENCY FLASH LIGHT.

Total three in cockpit and another 6 or 7 in the cabin, depending of aircraft type.

5. FOLDING TABLE.

6. JACK BOX.

Connectors for boomset, headset and microphone.

7. BRIEFCASE LIGHT.

8. BRIEFCASE/MAP LIGHT control panel.

9. EFIS MODE SELECT PANEL.

10. HAND MICROPHONE.

11. AUDIO SELECTOR PANEL.

12. NOSE GEAR STEERING WHEEL.

Provides control of nose wheel stearing through an arc approximately 82 degrees left and right during ground operation.

13. AUTOPILOT RELEASE button.

14. CONTROL WHEEL TRIM SWITCH.

Both switches must be actuated simultaneously and moved in the same direction to electrically move the stabilizer.

15. CHART HOLDER.

The ON GROUND EMERGENCY checklist is printed on the holder.

16. LIGHT SWITCH for the chart holder.

17. CLEARVIEW WINDOW opening handle.

The clearview windows may be opened to improve pilot visibility and for use as emergency exits.

18. ELECTRICAL connection of the window heater.

19. PARK BRAKE control.

To set parking brakes, depress brake pedals, lift PARK BRAKE control, then release brakes. When set, parking brakes are released by depressing either set of brake pedals.