3. COCKPIT PREPARATION.
CHECK LIST.

The Commander will check the LOGBOOK for remarks and give our Purser a short briefing of the flying conditions, then one of the pilots read the PRESTART check list. This can be done by either of the pilots, only one is needed in cockpit. On the MD80 it is normally the PF (Pilot Flying) who load the FMS while PNF (Pilot Not Flying) reads the prestart checklist.

The last part of the prestart check list called CREW AT THEIR STATIONS. From now on it is mandatory for the right pilot to read the check list and both pilots must be in position.


---
FMS.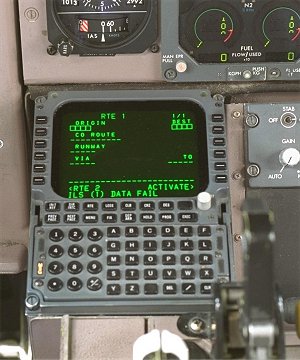 The FMS (Flight Management System) is loaded via one of the two CDU:s (Mulipurpose Control and Display Unit).

The first item is to initiate the ACARS (Aircraft Communications Addressing and Reporting System). This is a digital air/ground communications system used as a datalink between the aircraft and airline. The datalink uses a third, dedicated, VHF system as the communication link. Beside transmitting crew generated messages to ground, the datalink also automatically sends messages for example in the form of OUT ( out from gate), OFF (off ground), ON (on ground) and IN (in to gate) to the airline host computer. Next PF enters all route data into the FMS. The FMS will calculate a climb/descend profile. A lot of data is already stored in the memory, but some additional information must be loaded.
Position

ESGG is entered and the IRS systems are set to ALIGN.

Route

The whole SAS route net is stored in the database and we can enter ESGGEKCH10 to get the standard company route.

Runway in use.

Found in the ATIS.

SID

Standard Instrument Departure route.

Flight level.

FL according to our flightplan.

Aircraft load

This is FUEL and ZFW (Zero Fuel Weight)

Weather

Expected winds and temperature at our cruising level. Not really necessary but will give better calculations.
The CDU is also used to send and receive a lot of messages via the datalink system, Also the ATC is gradually introduced in the system. ATIS and PDC (PreDeparture Clearance) is possible to receive at some airports.

At ESGG both ATIS and PDC are available. We send the requests and receives this:


ACARS BEGIN - 03/01/14 05:45:50 . SE-DIU

03/01/14 05:45:42 OPEN

ESGG DEP ATIS D
0520Z ILS APCH
RWY21
TIME 0410 RWY WET ICE
25 PCT ALONG EDGE BA G
TWYS AND APRON WET AND
ICE BA P
TRL 55
LVP CAT 2 ILS ON REQ
METREPORT 230/13KT
VIS 400M RVR 550 500 400
FG
CLD VER VIS 100FT
T 4 DP 4 QNH 1001

ACARS END


ACARS BEGIN - 03/01/14 05:52:33 .SE-DIU

03/01/14 05:50:35 ACCEPTED

CLD 0550 030114
ESGG PDC 22844
SAS433 CLEARED TO EKCH
OFF 21
VIA TOPLA 1C
L996 5000 FT SQUAK
6546 EOBT 0605
NEXT FREQ 121.900
ATIS E QNH 1001

START-UP APPROAVED.
REQUEST PUSHBACK FROM
GROUND CREW.

ACARS END



We don´t need to call the Tower either to get or to confirm/read back our clearance. This is all done via the datalink.

If you want to listen to the ATIS, this is the next ATIS E from 05:50. A new ATIS is available 20 and 50 every hour.

Let´s look at the departure route we are supposed to follow. We are cleared via TOPLA 1C from RWY 21 initially 5000ft. The EOBT in the clearance is our Estimated Off Block Time that is our SLOT time. This is given as a fixed time (0605) but we have a "window" of minus 5 to plus 10 minutes when we are supposed to start our push back (from 0600 to 0615). This is probably due to the weather and the amount of aircrafts inbound Copenhagen.
This is the SID TOPLA 1C. Extract from SAS ASIR page 10 at ESGG.


COM
At 2000FT contact Göteborg CTL on indicated FREQ
SPEED
MAX IAS 250KT below FL100
MNM CLIMB GRADIENT: 6,6% up to 5000
ALT RESTRICTION: Climb to 5000
INITIAL CLIMB:
Climb on 205º - follow SID.
TOPLA 1C DEP FREQ 124.200
At D2 LAV (MM if DME U/S) -
turn L - 150º - R176LAV -
TOPLA

CLIMB GRADIENT is something for the "desk jockeys". Use this formula:
Gradient (%) x Ground Speed (KT) = ROC (Rate Of Climb) feet/min. To get something that we can use in the cockpit.
SETTING OF NAVAIDS.

All navaids are set to be able to fly the departure route in Heading select and Vertical speed modes. The FMS modes, NAV and VNAV, are not reliable until the FMS are able to read at least two DME stations. This Aircraft have got IRS to support the FMS, we can expect to use NAV very soon after lift off.

Set NAV1 on LAV 114.60 and CRS (course selector) on 176.
Set SPEED to 250KT
Set heading to 150, bank 15.
Set APS (Altitude Pre Select) on 5000.
Set NAV2 on LAV VOR 114.60
The NDB is no part of the SID, but set 342 SL and use to help you to keep the initial track.
---

From the mechanic, we have received one copy of the FUELING ORDER and we will check that we have 6 400 KG on board.
Via the ACARS we receive the FINAL LOADSHEET, containing a lot of data:
DOW Dry Operating Weight 36335

The aircraft and standard equipment

ZFW Zero Fuel Weight 42918

Aircraft and everything onboard except fuel

TOF Take Off Fuel 6200

Fuel on board minus 200KG for start up and taxi

TOW Take Off Weight 49318

TIF Trip Fuel 1800

According to calculations on our flightplan

LAW Landing Weight 47518

Also according flightplan

PAX Passengers 72
From the load sheet we will also get the setting of our stabilizer.
The MAC is what we put into our "computer". For more info regarding the different data see my FOM.
DOI
DLI
LIZFW
MAC-TOW
28
29
16
17

SPEEDBUG SETTINGS.

We can now set the speed bugs on our speed indicator. There are several ways to calculate this. Either via the SPEED BOOK or via the ACARS TAKE OFF DATA COMPUTER.
The normal flap setting for take off is 11º. The speeds for 49 TON is: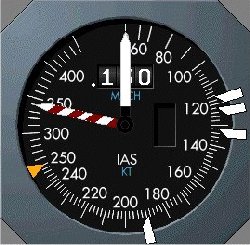 V1 - 117 set on bug1

In case of an engine failure we are supposed to abort the take off below this speed. After v1 is called we will continue.

Vr - 122 set on bug2

The speed where we start to rotate the aircraft.

V2 - 132 set on bug3

V2 is the lowest speed to use in case of engine failure. Our normal climb out speed up to 3000ft is V2 + 10.

Vflap up - 142

Flaps retraction speed. No bug read from the speed book.

Vslat in - 172

Slat retraction speed. No bug read from the speed book.

Vclean - 189 set on bug4

The lowest speed without flaps/slats extended.