Cockpit right aft side.
Back to MD80 cockpit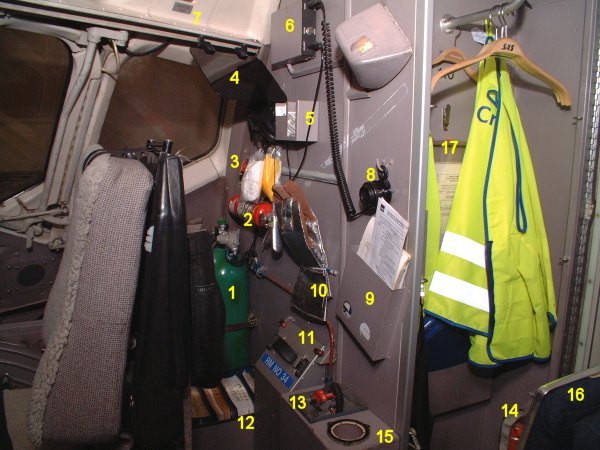 1. OXYGEN CYLINDER.

Provides oxygen to the flight crew members for normal sustained flight in the event of cabin decompression or for protection from the effects of smoke or harmful gases.

2. FIRE EXTINGUISER, halon type.

3. PASSENGER OXYGEN MASK switch.

In NORM position the door latches on all oxygen compartments will open automatically at any time cabin altitude reaches approximately 14 000 feet. In position EJECT the doors will open at any altitude.

4. SUN VISOR.

Movable along a rail above the windows.

5. SANITARY NAPKINS.

6. MICROPHONE connector for observer seat.

7. ESCAPE ROPE compartment.

8. MICROPHONE.

9. HOLDER.

Technical equipment checklist and fuel order.

10. FIRE GLOVES.

11. ON BOARD ROUTE MANUAL.

Shall be used in case of unexpected re-routings only.

12. SHIPS LIBRARY

Composed of books and manuals which may be needed during flight.

13. EMERGENCY OXYGEN MASK.

Intended for the observer seat.

14. VHF EMERGENCY TRANCEIVER.

Carried by the copilot in case of an emergency evacuation. Possible to transmit/receive on both 121.5 and 123.1 MHz.

15. BOX for SMOKE HOOD.

16. OBSERVER SEAT (jump seat).

17. CERTIFICATE FOLDER.

All aircraft official documents.