Right Pilot side.
Back to MD80 cockpit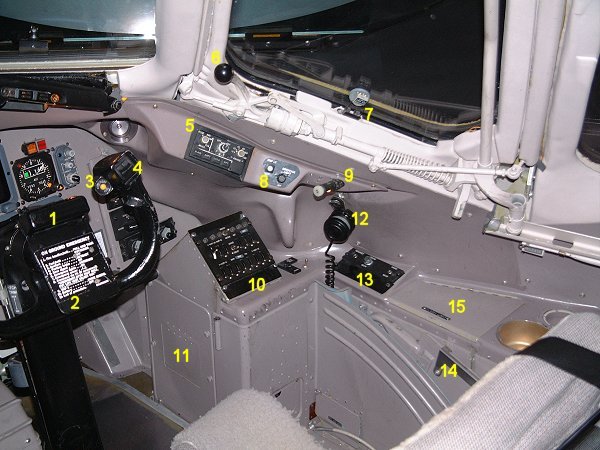 1. CHART HOLDER LIGHT.

2. CHART HOLDER.

The ON GROUND EMERGENCY checklist is printed on the holder.

3. AUTOPILOT RELEASE button.

4. CONTROL WHEEL TRIM SWITCH.

Both switches must be actuated simultaneously and moved in the same direction to electrically move the stabilizer.

5. EFIS MODE SELECT PANEL.

6. CLEARVIEW WINDOW opening handle.

The clearview windows may be opened to improve pilot visibility and for use as emergency exits.

7. ELECTRICAL connection of the window heater.

8. BRIEFCASE/MAP LIGHT control panel.

9. BRIEFCASE LIGHT.

10. AUDIO SELECTOR PANEL.

11. WASTE BOX.

12. HAND MICROPHONE.

13. JACK BOX.

Contain connectors for boomset, headset and microphone.

14. FOLDING TABLE.

15. STORAGE BOX.

Used to hold the emergency flashlight.