EPR/RAT.
This might be a somewhat tricky instrument. It is used to determine the EPR to be used during different flight conditions and also when to use engine anti ice.

You may also look at Metric Altimeter for some hints regarding the EPR settings.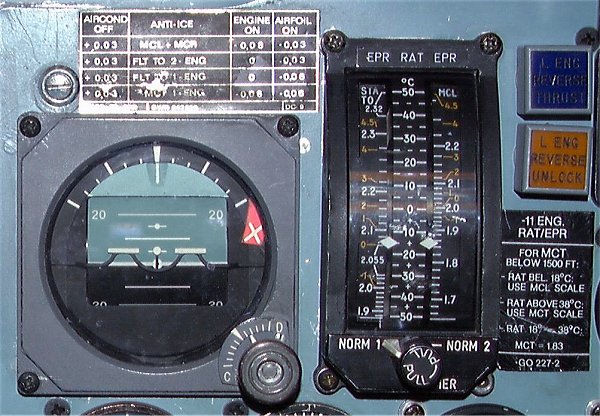 In the middle there is a temperature scale, showing RAT (RAM Air Temperature) approximately the same as TAT (Total Air Temperature). There are 3 sets of scales NORM1, NORM2 and EMERGENCY. They are selected by the knob at the bottom.
NORM 1

STA TO (Static Take off) to the left and MCL (Max Climb)to the right.

NORM 2

MCR (Max Cruise) to the left and MCL to the right.

EMER

FLT TO (Flight Take off) to the left and MCT (Max Continuous Thrust) to the right.

RAT POINTERS

The two white dots will show the RAM air temperature.

EPR SCALES

Large numbers (white) indicate max. permissible EPR when read against the RAT pointer. Small numerals (yellow) indicate EPR limitations due to altitude and should never be exceeded.

EPR CORRECTION PLACARD. Found above the horizon.

Certain conditions require that the EPR limit shown on the scale should be corrected according to the placard. Example: engine anti-ice require a reduction of 0.08 EPR and airfoil anti-ice 0.03.

MCL/MCT ALTITUDE LIMITAION PLACARD.

Found to the right of the instrument.
Some limitation required during extreme conditions.
---
TAKE OFF.
Use the STA TO scale. Normal take off EPR is 2.055, valid from temp +15 to +30. But then you also have to check your pressure altitude. That is the airport altitude and pressure.
One example

RAT pointer reads + 20º giving max EPR 2.055
Airport elevation is +90 ft
QNH is 1025mb - giving -340ft
In total -250ft standard pressure height which gives EPR 2.04. This is the max take off EPR, since this is the lowest EPR.


---
CLIMB.
Read the EPR on the right scale MCL.
---
DESCENT AND LANDING.
EPR bugs is set when reading the "Descend Check List".
Normal go around EPR is 2.02. Valid from + 15 to +30º. But use the temp given in the ATIS and add 5º. As during take off, also check the pressure altitude.