Back to Right pilot panel
HYDRAULIC SYSTEM.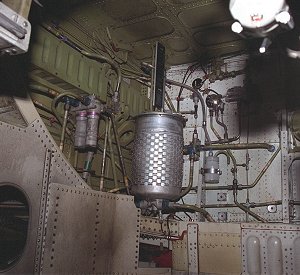 The MD80 has two independent hydraulic systems utilizing fire-resistant hydraulic fluid. Each system has a reservoir and is normally pressurized by single engine-driven pump. Ground service provisions for each system are located in the main wheel wells.

This is the left wheel well with the left hydraulic system reservoir.
Each reservoir have a max quantity of 19 qts.



MAIN COMPONANTS.



HYDRAULIC RESERVOIR.

The left and right hydraulic system reservoirs are located in the left and right main gear wheel wells. Each reservoir supplies fluid to its own system exclusively. The reservoirs are hydraulically pressurized to provide a positive and vapor free supply to the pumps under all conditions.

MAIN HYDRAULIC PUMPS.

Each hydraulic power system is normally pressurized by the engine driven pumps. Each pump can be operated in three modes: HI (3000 psi), LOW (1500 psi) and OFF. Pump operation is controlled by switches on the R/P instrument panel. In case of loss of electrical power, the pumps automatically reverts to HIGH pressure mode.

AUXILIARY HYDRAULIC PUMP.

An electrically driven auxiliary pump is incorporated in the right hydraulic system. The pump provides hydraulic pressure for flight back-up, preflight and maintenance operations. The auxiliary pump is designed for continous operation at 3000 psi. Operation is controlled by a switch on the R/P instrument panel.

TRANSFER PUMP.

A power transfer unit mechanically connects left and right hydraulic systems and enables pressure to be transferred from one system to the other (the high pressure side operates as a motor and the low pressure side operates as a pump). The unit is controlled by a single motor operating two shutoff valves, one in each hydraulic system. Operation is controlled by a switch on the R/P instrument panel.

HAND PUMP.

A hand pump, installed in each main hydraulic system and located in the main gear well, supplements the standard power sources for ground actuation of the various subsystems.
---
HYDRAULIC PANEL on R/P instrument panel.

ENG

HI - 3000 psi.
LOW - 1500 psi
OFF - No pressure output. Hydraulic fluid will circulate for pump lubrication and cooling.

AUX

ON - 3000 psi.
OVRD - (Must be held in OVRD position). Auxiliary pump turned on at 3000 psi.
This pump is protected from overheat damage by a thermal protective circuit that automatically shuts off pump when exceeding normal operating temperature. OVRD position bypasses protective circuit to permit continuous pump operation when needed.

TRANS

ON - Mechanically connects left and right hydraulic system.
OFF - Mechanically separates left and right hydraulic system.

SYSTEM PANEL on the center instrument panel.

1. HYDRAULIC PRESS readout.

Indicates system hydraulic pressure.

2. Amber limit lights.

Comes on to indicate that hydraulic quantity has decreased below limits (4 qts with engines running).

3. HYD QTY readout.

Indicates quantity of hydraulic fluid reservoir.