Right Pilot instrument panel.
Back to MD80 cockpit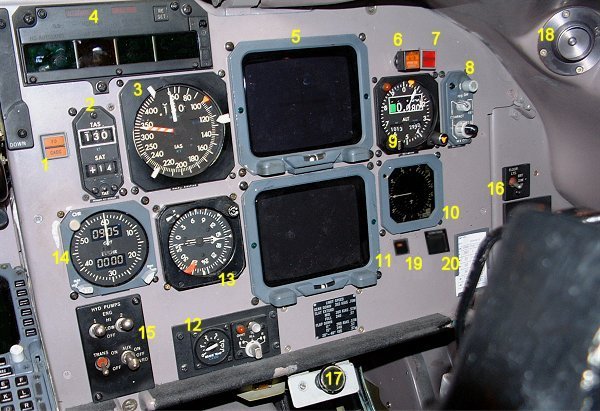 1. FD(Flight Director) LIGHT.

Comes on to indicate that the FD CMD selector on the overhead panel is out of its NORM position.

2. TAS/SAT INDICATOR.

Readout of True Airspeed and Static Air temperature.

6. BELOW G/S light and reset switch.

Light comes on to indicate a penetration of glide slope alert envelope during an ILS approach.

7. TERRAIN warning light.

Light comes on to indicate penetration of warning envelopes in the GPWS system.

8. DIMMING PANEL..

11. NAVIGATION DISPLAY.

13. COMPASS INDICATOR RMI.

Shows direction to VORI and VORII. On A/C with IRS also DME

14. DIGITAL CLOCK.

15. HYDRAULIC PUMPS.

16. FLOOR LIGHT SWITCH and below (hidden) NORM/ALT air switch and right pilot instrument switches. Same as on the pilot panel.

17. PEDAL ADJUSTMENT knob.

18. AIR CONDITION outlet nozzles.

19. MAG/TRU ANNUNCIATOR/SWITCH.

MAG - all compass cards referenced to magnetic north. TRU - ND compass card is referenced to true north.

20. TERR/WXR switch.

Provides manual selection/deselection of the EGPWS terrain display.