Back to left pilot right pilot - instrument panel.
MACH/IAS indicator.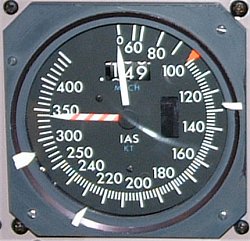 WHITE BUGS.

The 4 bugs are manually set during takeoff to V1/Vr/V2 and Vclean. During approach and landing only two bugs are set to Vth and Vclean (done when reading the "descend checklist".
Explanations of the different speeds can be found under FOM.

AIRSPEED COMMAND BUG (amber).

Set with Speed Mach select knob in FGCP. When in V-Nav mode of operation, the bug and the FGCP readout is automatically set by the FMS to the computed target speeds.

Vmo POINTER.

The red and white pointer reads the maximum permissible airspeed related to altitude.

AIRSPEED POINTER (white).

Indicates computed airspeed IAS.

MACH READOUT.

Mach number is the digital readout. The readout will never be less than in this picture.